Herriman & Riverton
SEO Company
Getting to the top of Google is not enough; i4 Solutions will help your company blaze past competitors.
OUR INNOVATIVE INTERNET MARKETING SERVICE WILL PROPEL YOUR BUSINESSES DIGITAL PRESENCE
As a business owner you know the value of relevant website traffic, but getting high-quality traffic is often much more difficult than it may seem. You'd have a hard time finding a company in Herriman or Riverton that hasn't invested in SEO, or tried Pay Per Click (PPC) marketing services. As a leading SEO provider in Utah i4 Solutions can help your website to generate traffic, leads and most importantly new bussiness for your company.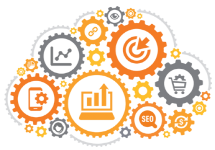 People in Riverton and Herriman perform a new Google search every second, many searching for companies like yours to provide services. We help your company to capatilize on these searches with our SEO and marketing services. Imagine what a difference it would make if your customers could instantly find you from anywhere, simply by searching for your products or services. With our tested and proven SEO strategies, we can make that a reality.
i4 Solutitions Search Marketing Services:
SEO
You need a marketing company that delivers results each month without fail. Our SEO specialists do their best to explain our strategies and provide full transparency in the work we do for your business.
PPC
Working with a partner who truly understands both your business and the intricacies of Google PPC is vital for success. Our experts are Google Certified, with years of experience building efficient, productive ad campaigns.
Reviews
We're business owners too! We realize how critical it is to have a solid reputation and excellent online reviews. We can help your company generate new 5-star reviews from individuals who you have already done business with.
Social Media
Most people don't know, but Facebook clicks are a key indicator Google uses to determine the strength of a website? That means social media is great SEO investment for your business.
Contact i4 Solutions
To learn more, or to get a FREE digital marketing evaluation, please give us a call at 801-294-6400.