Holladay & Millcreek SEO Company
It's not enough to just be at the top of Google; i4 Solutions will put you at the apex of your industry.
our cohesive Marketing strategies change the way your business is perceived online.
There are many methods to increase the traffic to your website, but as most business owners in Holladay and Millcreek know, not all traffic is created equally. One of the very best ways to promote your site to relevant local consumers is through Search Engine Marketing, also known as SEO and PPC. At i4 Solutions, we employ both of these strategies to generate traffic, leads, and, most importantly, phone calls for companies throughout Utah.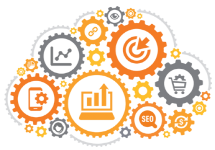 Over 85,000 searches are performed on Google every day in Millcreek & Holladay by people looking for a company to help them. Through well-crafted SEO and marketing services, we can ensure your company is one of the first they find. Our specialists will analyze your website and your competitors to create and execute a winning strategy that moves your website to the top of page one for your most valuable products and services.
i4 Solutions Marketing Services Include:
You need an SEO company that delivers results month after month. We work hard to pull back the curtain and provide fully transparent SEO services that succeed for your business.
Finding a company in that truly understands pay-per-click advertising is no easy task. Our PPC experts are Google Certified, with years of experience building efficient, productive campaigns.
Reputation Management
Social Media
As business owners, we understand the importance of having a solid reputation. We can help your company receive recognition for the fantastic work you do for your customers.
Did you know the clicks to your website from social media is one of Google's key indicators to judge the strength of your site? This makes social media one of the best SEO investments.
Contact Us
To learn more, or to get started with an SEO campaign, please give us a call at 801-294-6400.